Great Harvest Bread Co.
Local Products
Retailer - breads, pastries, peanutbutter, jams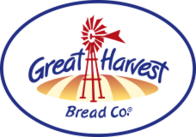 Great Harvest began to grow into the nation's first family of independently owned and operated whole grain bread bakeries. Authenticity, a spirit of camaraderie and individuality remain the foundation of the organization. Today there are more than 200 Great Harvest bakeries located across the United States, including six in Idaho!
Great Harvest Bread Company is committed to creating fresh and flavorful products at family friendly neighborhood hangouts.
The Idaho locations use Idaho milled flour and over 18,000 pounds of honey a year from Reisinger Apiaries in Emmett, ID. They also buy spelt grain for a grower in Rexburg. On their sandwiches you will find local sprouts from Shoots & Sprouts in Middleton. Great Harvest Bakery is dedicated to using local whenever possible.
Follow Great Harvest Bread Co. on social media