Idahoan Foods, LLC
Local Products
Mashed Potatoes, Russet Potatoes, Hash Browns, etc.
Located on the rolling plains of the Snake River Basin in Eastern Idaho, Idahoan traces its roots back to 1960 when a group of local business men and potato growers joined forces with the goal of bringing the world an array of superior products made from potatoes grown exclusively in America's premier potato farming region, the State of Idaho.  Today, that same passion for extraordinary flavor, texture and product consistency remains the foundation for all that they do at Idahoan.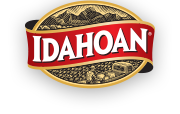 OUR QUALITY
At Idahoan, our potatoes are the best because potatoes are all we do. We've always been grower-owned, and we still control every aspect of our production process – something most competitors can't say. Our potatoes are custom-grown for our recipes – and we've used our 50 years of experience to develop proprietary cooking techniques that deliver superior flavor and texture in every serving.
Idahoan Foods will safely produce and deliver the products and services our customers ask for, when and where they need them, priced as we agreed. We are committed to continuous quality improvement–in a safe working environment for all of our employees.